9.24.17 - Gnomes are officially ready for Paladins! Lets go devs!
9.19.17 - It was a much smaller crew this year than in years past but Forb's mog was still on point! The rest of ye scurvy bilge rats can walk the plank!
7.03.17 - And now that Tomb of Sargeras is open, Gnomes have declared open season on the new bosses. In our first assault we killed five of the nine bosses! So if youve got the gear and a taste for adventure, contact Zoreli and tell him: "Put me in coach!" =)
7.03.17 - Under the capable command of our PvE officer Zoreli, our runty raiders have left their tiny bootprints on the behinds of every raid boss Blizzard has put before us! We cleared Emerald Nightmare on Normal, and even killed a couple Heroic bosses. We've also punted every boss in the Nighthold numerous times!
7.03.17 - To those who might be checking this page and thinking <Gnomeregan Forever> has died, sorry to disappoint. Alas my personal near death experience has left me with less time for a lot of things including updating this news page. But G4 keeps on rockin!
12.24.16 - This year has been challenging for all of us, but G4 keeps thriving thanks to Gnomes like you digging deep and doing amazing things! So I hope you all get a few moments respite from the hustle and bustle to enjoy the warmth of the season, and to reflect upon all your accomplishments before 2017 arrives and we start to do it all again! Happy Holidays everygnome!
08.09.16 - Battle Stations! At long last the Burning Legion has made its move and now its our turn. Team up with your fellow Gnomes, its dangerous out there! But dont let that stop you. The Demon Invasions drop sweet ilvl 700 raid quality gear! So get out there and gear up, and join us as we assault the Hellfire Citadel on Sunday! For Gnomeregan!!
07.29.16 - As many of you know, there are two impressive Hunter P.E.T.S. in Siege of Orgrimmar. And since Hunters are the hot new class for Gnomes, we will be setting up shop there. Specifically a PET SHOP. We will be running Siege of Orgrimmar during Retro Raid Night for a while to help our Hunters get these impressive Tames. I'd also be open to running more than one night per week to speed up the process if we have enough volunteers with alts. If youre a Hunter who needs these pets make sure youre there on Friday! And if youve already got yours, help your guildies get theirs. Plus dont forget there is still LOADS of cool Transmog gear to be collected in there, and a Mount even if you arent a Hunter!
07.23.16 - It was a balmy day on Winky's Isle, and perfect just laying around. But when G4 plans a party, there is no holding back! It was Gnomeregan Forever's End of Summer/End of Warlords bash. There was music and dancing, and lots of food and drink, and of course a few fireworks. There were also of course LOTS of Gnomes, including some who later became members! If you missed it, you missed a good one!
02.07.16 - Roving Gnome Pepe here with late breaking news from Hellfire Citadel. Another orc bit the dust tonight as the forces of Gnomeregan Forever gave Gorefiend and his soul sucking Belly of Death a fatal case of indigestion! Gul'Dan's minions never knew what hit them, except that it was short! Join me and the rest of the team next week as we head upstairs and attempt to serve those orcs another heaping helping of humble pie. For GNOMEREGAN!!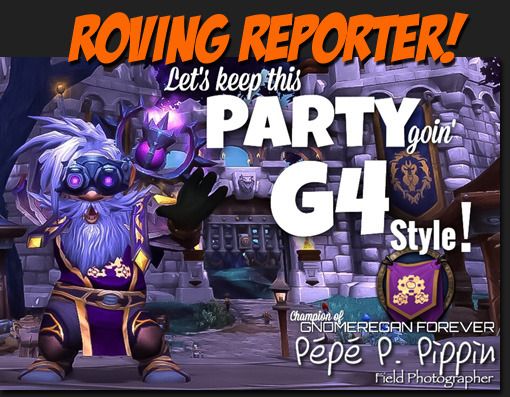 01.30.16 - G4 has a new Roving Reporter! When Pepe is around, make sure to say CHEESE! =)
"Hiya Gnomies, Pépé here to serve you all things G4. It is my mission to provide you all with visual updates of upcoming events, along with the ones you may have missed. For now, head over to the "G4 Rocks" gallery, drop a like or comment on some of the recent photos and let me know what you think. That's all from me for now, so let's keep this party goin' and show the world what G4 has to offer!"
01.24.16 - Fourteen Gnomes on a dead Orc's chest! Yo Ho Ho and a bottle of fizzy energy drink! Killrogg Deadeye lived up to his name last night, except now ALL of him is dead at the hands of G4's runty raiders! A complicated fight to be sure but one I knew we were capable of. Well done everygnomie! Work on your gear and study the fight because next week the pitter patter of tiny feet comes for Gorefiend! FOR GNOMEREGAN!!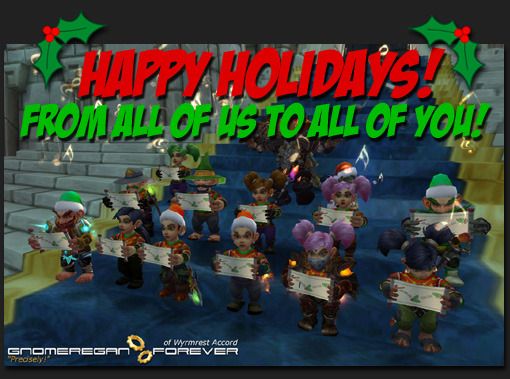 12.18.15 - Star Warriors come in all sizes. May The Short be With You!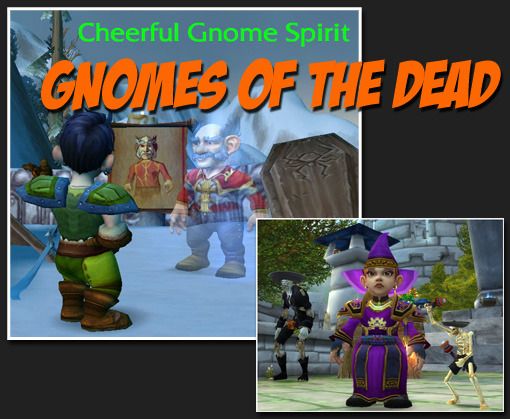 11-1-15 - I'm a little late posting this one, but I HOPE you all paid your respects to the cheerful gnome spirits in the Ironforge cemetary, and picked up your Macabre Marionette pets before they disappeared for another year!
Not only are these delightful dancing skeletons wonderful vanity pets but they are also very useful additions to your Battle Pet teams! For those who dont collect, they also go for quite a lot of gold compared to how easy they are to get. And its likely that price will only rise as supplies dwindle now that the holiday is over.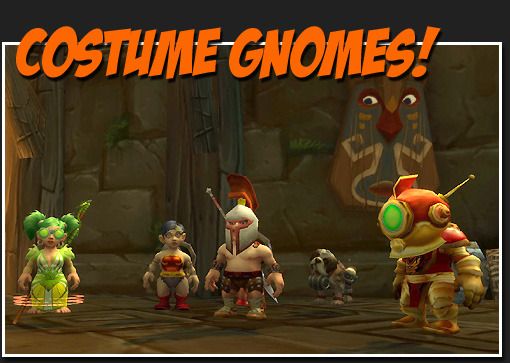 10.30.15 - When Deep Forest hosted a Hallows End party this Friday, REAL Gnomes answered the call, though many were in costume. There were loads of Gnomes there, and not all from G4. So many great costumes, and games. A lot of fun was had by all. Grats to Tyrman of G4 for winning the prize for the Cutest Costume! If youd like to see more screenshots from the party check
THIS
thread on the forums!
10.25.15 - In this case no news isnt good news. A number of our runty raiders have been absent the last few weeks and we're struggling a bit to muster the firepower we need to down these brutal Hellfire Citadel bosses, or even Heroic Throne of Thunder bosses.
Dont let those End-of-Expac Blues get YOU down! Get back in the fight soldier! Work on your gear, and join your Gnomerades in arms as we make our historic assault upon Hellfire Citadel! Archimond will taste defeat at the hands of an all-Gnome raid team and you'll want to be there!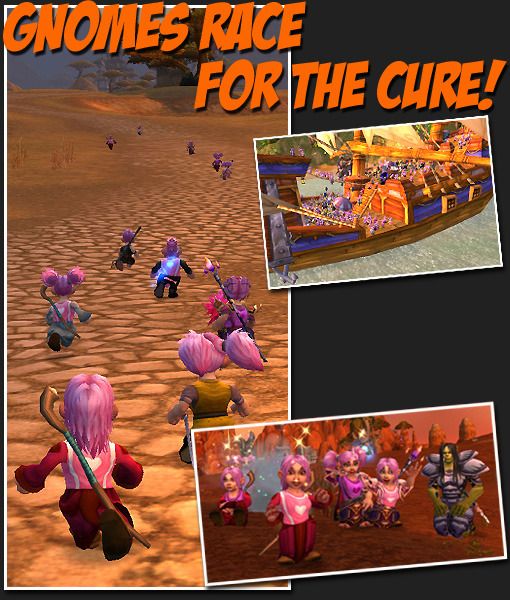 10.24.15 - A number of G4's members took part in the annual "Running of the Gnomes" event on Scarlet Crusade realm. The event seeks to raise awareness and funds for breast cancer. Thousands of pink haired tabarded Gnomes invaded the realm. The good news: We only crashed the world server ONCE =) This was Forbs' second year running.
The event was a joyus, chaotic success with over three thousand dollars raised for a good cause and much fun had by all. If you'd like to see more screenshots and videos of the event, check out the
Gnome Run Thread
in the forums!
10.23.15 - REMINDER: Friday Nights are Retro Raid Night! Lately we have been focusing on picking up missing Mists of Pandaria Raid Achievements for the guild. A couple of weeks ago we downed the Sha of Fear on Heroic Difficulty and unlocked the
Thundering Jade Cloud Serpent
flying mount for our members! So dont forget to add this handsome mount to your collection.
In preparation for taking down the Thunder King on Heroic difficulty we have been getting that difficulty unlocked for a bunch of our members. Along the way we saw LOADS of cool mog gear dropping that I had personally never laid eyes on before. Come get your share! Heroic Throne of Thunder is no cakewalk either let me assure you. So I'd like to see a BIG turnout of our lvl 90+ Gnomes this coming Friday (especially Healers, we had NONE the last two weeks) to help G4 get this important Achieve!
10.20.15 - Hallows End is nearly done, so dont miss out on all the fun! Ok enough rhyming. Dont miss your chance to snag these limited Hallow End Toys and Pets before they turn into pumpkins! There are two Ghost Kitties from last year you can buy for Tricky Treats if you didnt get them. New for this year is the
Coin of Many Faces
toy! It will turn you into one of HUNDREDS of possible Follower models! Never the same one twice! And they last for an hour and persist thru death and combat. Get YOURS by slaying the lvl 100 Holiday mobs in south Shadowmoon. I got mine in about 20 mins.
Also use Spooky Supplies to purchase the Creepy Crawlers Garrison decoration package! As part of the package, Arachnis a giant spectral spider will haunt your base. You can loot him once per day on all your toons for a chance to get a
Sack of Spectral Spiders
toy for your collection! Also your base will be overrun with Ghostly Maggots, Spiders, and Rats! These are all CAPTURABLE as new Battle Pets! Be sure to add them to your menagerie before Hallows ENDS!
10.18.15 - After a several week hiatus, Gnomeregan Forever returned to Hellfire Citadel, intent on taking the fight to Gul'dan's goons. Though missing several regulars, the tiny titans of G4 leveraged new gear, and a few legendary rings to make short work indeed of everything that stood in their path. It was a textbook demonstration of demolition as Kazzak, Assault, Iron Reaver and Kormrok were all one-shot by our purple people punchers!
I'd like to see G4 down Archimonde before the next expansion launches. Killing the expansion ending boss while he's still current content would be a first for us. To accomplish this we need more Gnomes to join the fight! Grab your gear and lets kick some rears! Sunday nights 5PM sharp!
10.17.15 - Murloc pets used to be rare, reserved for the few who managed to get tickets (real or virtual) to Blizzcon, or foreign sales promotions. But now Blizzard has hidden an adorable Murloc pet in the game that everygnomie can get!
The pet is well hidden in a sea cave in Borean Tundra. But fear not intrepid Gnomes for your GL has a guide to help you get it. Check out
this forum post
for all the details!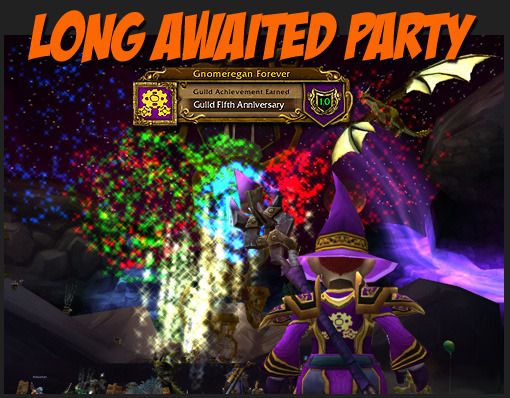 09.27.15 - Five years is a long time for one guild to hold together. When I founded G4 back in Wrath, I couldnt have known, and wouldnt have dared to dream this guild would accomplish half of what it has. Your accomplishments are known far beyond the borders of your home realm G4. You can and should take pride in that.
Bilbo's grand party featured fireworks and dragons and lots of friends and well-wishers. Ours was no different. It marked the end of the older hobbit's story, and the beginning of Frodo's. There are few of us Gnomes left now who remember the early days of G4. But over time our ranks have been bolstered by other great Gnomes. Will this new generation of heroes continue to rise to the challenge, eclipsing even the epic deeds of their predecessors? Will they write large their names upon the history of their illustrious guild?
Time will tell.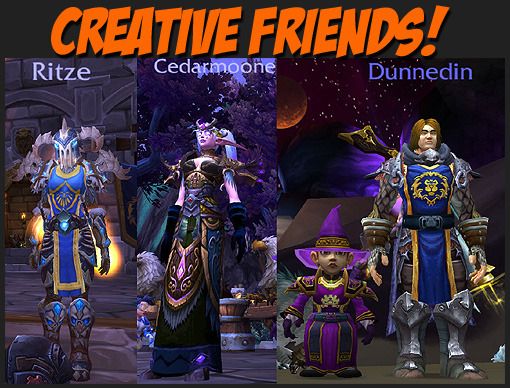 09.27.15 - Wyrmrest Accord is well known for the creativity of its community, and that creativity was on display in our
Forums contest
! That's right, G4's anniversary celebrations aren't all duels and explosions and things that go SPLAT in the night. We have our creative side too. When I think back on G4's five year history, what stands out to me are the friendships we all made. So this year's forum contest theme was "Friends."
The winners were all Alliance side this year. 3rd place was awarded to Dunnedin, whose story of friendship under fire (literally!) reflected the theme admirably. 2nd Place went to Cedarmoone for her whimsically edited screenshot showing that time spent with imaginary friends can be just as rewarding as real ones. Our 1st place winner was Ritze whose poem captured the essence of the Death Knight experience, and how they stand by their friends, in life AND in death.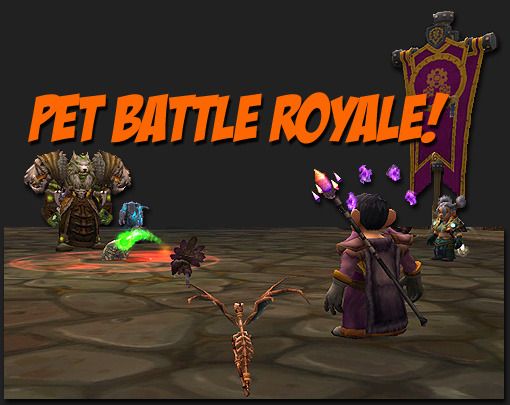 09.27.15 - It was a Pet Battle Royale last night in Dalaran folks as Wyrmrest Accord's seven best Trainers stepped into the ring and slugged it out for money, prizes and fame!Both Lardun (the only Horde Champion to show up) and Zunde advanced through their early matches easily, while Tyramand had the misfortune to draw Zunde as his first opponent. This forced the plucky Gnome into a series of exciting do-or-die elimination matches.
Meanwhile Lardun and Zunde squared off in match #7 in a battle of the undefeated. Zunde came out on top. Then the highlight fight of the night came as Tyramand who had fought his way through the loser's bracket met Lardun of the Horde. In the end it was Tyramand who managed to roar back and snatch 2nd Place from the jaws of defeat. Easily our best Pet Tournament ever!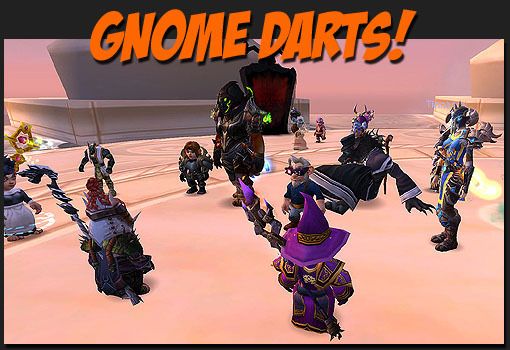 09.25.15 - The air may have been thin but the prize pool certainly wasn't, and neither was the pool of contestants. Once again Gnome Darts proved to be one of our most popular events. We also nearly had a repeat of last year where if you recall Gnomes took 1st, 2nd, and 3rd place. Actually technically we DID, but Vasokos from Moonguard while having a 3rd place caliber score was nevertheless ineligible to receive prizes due to his off-realm status, and so Ritze officially took 3rd. Milladee a fixture at G4 events showed everyone how the game was played with three consecutive sub-7 yard jumps for an easy 1st place score. Mazzakazam took 2nd place, while Kawaiicaelix had the closest jump at 3 yards but failed to finish in the money. Thanks to Mitten for coordinating the event, as well as Muletia and his magic addon. Also big thanks to everygnome who came out to help!
09.24.15 - Great turnout, great Mogs, great event! G4's Fifth Anniversary celebration kicked off in grand style at the Argent Tournament grounds with a "Legion" themed transmog contest and fashion show. As spectators lined the runway, Fashionistas from both the Alliance and the Horde strutted their best stuff. Congrats to our winners: Zogdor (Horde), Aluciena (Alliance), and Junhong (Alliance) for taking home the prizes. Special Thanks to our Guest Judge: Gravelshot for his X-mog expertise! Event coordinators Rusteah and Pippannelle did a fantastic job, and big thanks to everygnome (short and tall) who helped make this event one to remember!