Through the patient action of tiny bits of stone and sand over time are mighty mountains and rivers carved. We're sorta like that here in G4. We set a goal for ourselves and through patience, persistence and team work we get the job done. This week sort of epitomized that.
We've been needing more IC events on the calendar and so Wilbyr started a weekly series of pub nights. We all gathered at the Pig & Whistle for drinks and a card game he calls "Make Your Fortune!" We had fun. Bellamy won (or lost, depending on your point of view) and had to get a haircut.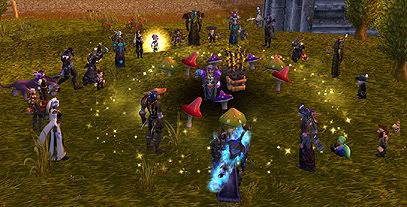 But the fun was cut short however as G4 took part in a somber memorial event for the victims of the Oslo rampage outside the gates of Stormwind and which was commemorated in this
video
Forbs spent weeks grinding materials for her
Vial of the Sands
, but on Friday everything finally came together, and with the aid of our good friend Professor Borogrove who concocted the final catalyst, Forbs finally got her W.I.N.G.S. (Winged Invention for the Nullification of Gravity Suit)! Forbs can now offer flights to our lower level Gnomes and provide access to areas that might otherwise be difficult to reach.
But the mighty mountain G4 has been chipping away at for four months finally fell at our feet on Saturday! Fourteen Gnomes saddled up and rode through the swirling sands of Silithus and into history! Twelve Bosses were waiting for them, and when the dust finally settled, eleven of them lay dead at the feet of Gnomes! Including the dreaded Twin Emperors Vek'lor & Vek'nilash and the Old God C'Thun! Viscidus appeared bugged. We killed him twice and he reset to back to full health twice. Nevertheless it was a complete victory for the forces of G4 earning us not only the
Temple of Ahn'Qiraj Guild Run Achievement
, but the
Guild Classic Raider Achievement
as well!
We're going to need a new goal now, and luckily we've got a handful of new Gnomes this week to help us accomplish it too! So say hello to Hingleton, Snicklefritz, Oddy, Burnsie, and Mobie, and make them feel at home!
So have a great week out there people, and dont be afraid to take on big challenges! We're Gnomes! Success is inevitable!