Sept 12th - Happy Birthday Gnomeregan Forever! This post is weeks late owing to the intimidating amount of news to report and my taking a bit of a breather after the event. *Deep Breath* On with the News!!
First things first, please welcome to our newest nifty Gnomes: Allenwrench, Larvick, and Scorbert! Make us proud guys! Forbs also ratcheted up her promotion of the anniversary celebration on the realm forums!
Wednesday we decided to do a Molten Core run in hopes we might get lucky and see the Right Binding drop for Brixee. Well we got lucky alright, but not in the way we expected! Ragnaros dropped the
Eye of Suluras
! To make a long story short, Eza became our second member to be working on a Legendary weapon! It became clear we would need to start farming Molten Core and Blackwing Lair for materials more seriously...after the celebration!
Thursday finally arrived, and Gnomes swung into action! Forbs dropped the
First Daily Prize Thread
on the realm forums! At first our fellow Accordians didnt seem to realize they could just reply to the thread and win prizes and treated it like a creative writing contest! So the First Prize Thread winners were judged on creativity! 1st Prize of a Personal World Destroyer & 500g was awarded to Orican for her tale of the heroic Gnome Engineer! 2nd Prize of a
De-Weaponized Mechanical Companion
& 250g went to: Fangsfirst for his humorous tale of First Contact! 3rd Prize was awarded to: Trixxiz for her delightfully IC Goblin perspective! And our Consolation Prize of a Lifelike Mechanical Toad went to: Lilliat!
Then 5PM rolled around and it was time for our Guild Pride Parade! To say that Forbs was stressing out would be an understatement. I was afraid the turnout would be small and our parade would be a bust. But our friends at The Brotherhood of Iron, The Shanre, The Embersea Accord, and Against All Odds showed up in force, and suddenly we had a PARADE on our hands! As the parade moved through Ironforge and Stormwind it grew as people joined in! Eventually the parade reached its destination at Cathedral Square with what looked like nearly a hundred people!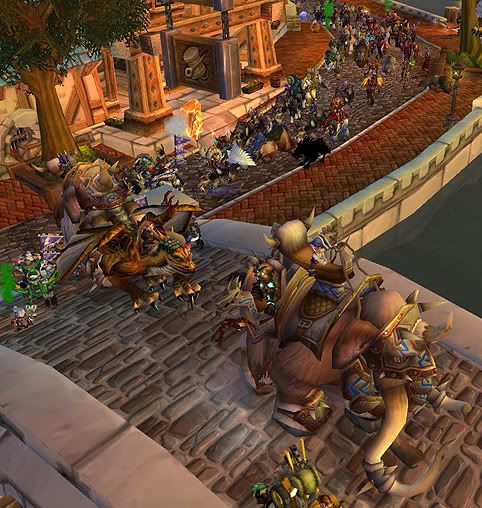 We presented the awardsfor 1st Prize of a World Destroyer & 750g going to Marlo accepting on behalf of The Embersea Accord who were resplendant in their matching red outfits and banners! 2nd Prize of a De-Weaponized Mechanical Companion & 500g going to Keenstar accepting on behalf of Sentinel who impressed us with their Kaldorei military air and matching Nightsabers! And Morashtak accepting the 3rd Prize on behalf of The Brotherhood of Iron for their equestrian unit of matching Rams!
We finished up with a Fireworks show from the roof of the Cathedral that wowed the crowd!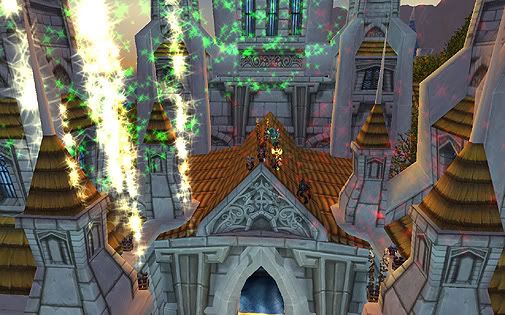 Flush with the success of the Parade we plunged into Friday's events with a bit more self-confidence! Forbs dropped the
Second Daily Prize Thread
up on the Forums. Though this time the RNG detirmined the winners, there were still some great entries. 1st Prize was awarded to Miriet. 2nd Prize went to Chalathiel. 3rd Prize was claimed by Vanoir, and the Consolation Prize went to Gizmó! But Fangsfirst's epic entry of the first bald Worgen aviator simply could not go unrewarded, and he received one of Penti's rare Raptor Hatchling pets for his effort!
Then the bells struck five, and the largest gathering of Gnomes Booty Bay has ever seen assembled for the Running of the Gnomes! We had about thirty contestants line up for the start. It was an exciting race...at least for the Panthers, and Raptors, and Bears, oh my! The contestants ran a brutal gauntlet through Stranglethorn, Duskwood, Elwynn Forest, before reaching the safety of Stormwind. Then into the Tram Tunnels to Ironforge, and then the last leg to Gnomeregan! 1st Prize went to Rakatiki! 2nd Place was taken home by Sylvetick, and 3rd Place was claimed by Crylis! Best Dressed Gnome prizes were won by Sneegeek, and Starvick!
Afterward we gave a huge Fireworks show at the gates of Gnomeregan! Then we ported everyone to Dalaran and handed out focusing lenses to all the Gnomes in attendance and made it unofficial Gnome Gnite at Club Lyon!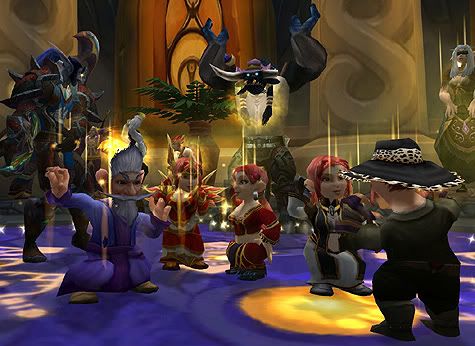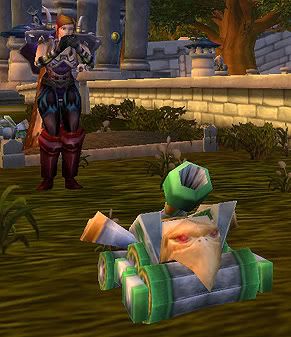 Saturday dawned with fatigue starting to set in, but enthusiasm still runnng high! Forbs posted the
Third Daily Prize Thread
early in the morning hoping for many replies. Because of all the creative responses in the previous threads, I decided to do this one "Wyrmrest Accord Style!" It did not disappoint! Indeed it was difficult to narrow the winners down to four. 1st Prize was won by Squig whose Gnome comic was great! 2nd Prize was taken by Zerata for a Gnome song worthy of Brian Boitano himself! 3rd Prize was awarded to Faellys for Nuclear Ice Cream...what a concept! And our Consolation Prize went out to Chazelios for his Gnomish Test Drive story!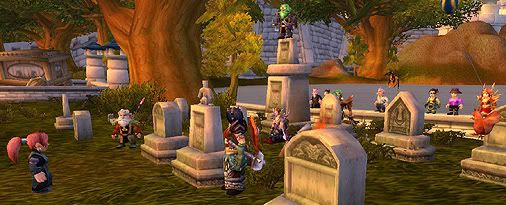 Then at last it was time for the great Steam Tonk Tournament! It was a disappointing tournout, only about ten contestants or so. But the level of competition was high! And the cemetery proved to be the perfect location! The closely spaced headstones provided both cover and obstacles, and our contestants were quick to grasp the tactical implications! After about an hour and a half of furious Tonk battles our winners were: 1st Place Phaena the Alliance Tonk Champion! 2nd Place was won by Evimage! 3rd Place was taken by Myshfive, and our Consolation prize went to Trixina!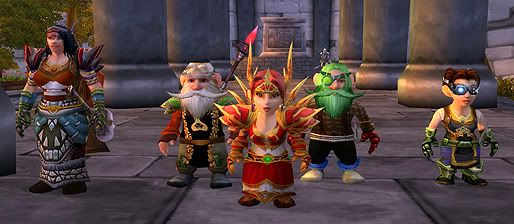 Afterwards we put on a big Firewworks show right in the middle of Stormwind lake! Then we had a lot of fun RP'ing with the crowd that stayed around after the fireworks!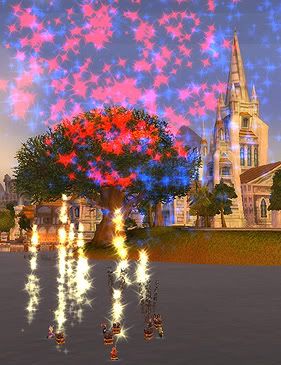 Sunday, Sunday, SUNDAY began as the others with the
Fourth Daily Prize Thread
on the Realm Forums! So many nice things said about us! The winners were: 1st Prize Chazelios! 2nd Prize went to Qazzi, and 3rd Prize went to Lexiy, and the Consolation Prize went to: Freshmeat!
Then as the sun began to set on the final day of the Four Days of G4 it was finally time for the Fabulous River Boat Race! After briefing the contestants on the rules in the Speedbarge bar, while our judges secretly took their positions, Forbs led the contestants to the starting line! Then the race was on! In a surprisingly short time we had our top finishers who were confirmed by our judges: 1st Place was won by Elamarya! 2nd Place was taken by Militmus, and 3rd Place was claimed by Phaena! Our Consolation prize was handed out to Kailia!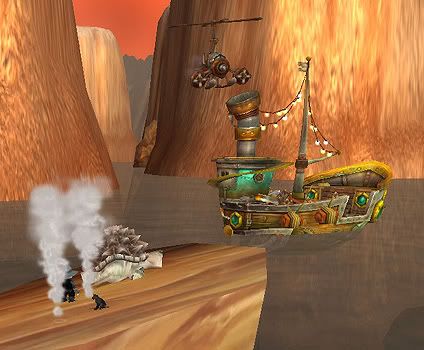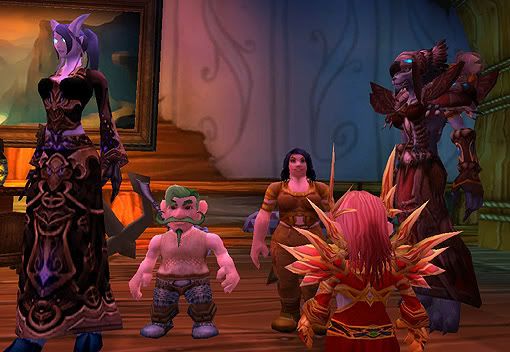 With all the contests at last complete it was finally time to have our Grand Prize Drawing for the Chopper! Everyone was invited to a Raid and the often fickle gods of RNG were consulted by means of /Roll and Orican became our big winner!
With all the prizes all handed out, and the sun sinking low it was time for our last big Fireworks show of the event! Then we settled down to do a little RP and bask in the afterglow of an Anniversary celebration like Wyrmrest Accord has never seen before!