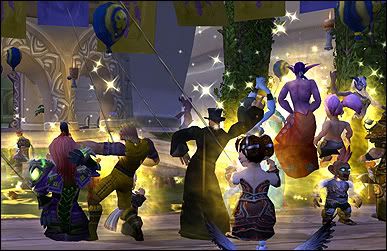 Oh. Emm. Gee. What a week! I hardly know where to begin, so I'll just jump right in. Our stylish new guild website went live last Sunday and seems to be passing the Gnomish torture test. Our "Premium Trial" will expire in about 20 days. At which point we may experience some restrictions to our free service and ads most likely, so enjoy it while it lasts!
Our rep grinders are definitely getting it done in style! We received the
Ambassadors
Achievement for raising 25 unique reputations to Exalted! I only have about 18 myself so I know how hard that can be. Well done all!
Then just when you thought it was safe to have a pint in the Stoutlager Inn in Thelsemar, the Horde go on the warpath! This RP-PvP event caught me off guard, but proved to be quite fun! G4's special forces and our Dwarven allies flew recon missions, and fought the invaders every step of the way, eventually culminating in a glorious battle at the gates of Ironforge in which the Horde were soundly defeated!
And speaking of Dwarves, they got nothing on us Little Folk, and we've got the
Mighty Miners
Achievement to prove it! Wow thats a lotta rocks!
Then Saturday we had a great turnout at the guild meeting. Finally the numbers were on our side and eleven detirmined Gnomes glided under cover of darkness into Blackrock mountain and staged a daring assault upon Nefarian's stronghold! Along with the loot we picked up the
Blackwing Lair Guild Run
Achievement!
We carried Nefarian's head back to Stormwind, and presented it to King Varian. This time we were not to be denied. After a triumphant procession through the city steets, the head was hoist above the city gates, and Field marshal Afrasiabi proclaimed our deed throughout the land!
After a mission like that there was only one thing stylish Gnomes like us could do...Party like its 999! Most of us wisked off to Dalaran to partake of the wonders of Club Lyon the Alliance Nightclub! We got there and found the place was jumpin! There were many Tall Folk dancing and drinking and DJ Rainlight was streaming tunes over the web.
But the fun doesnt really start until the Gnomes arrive. It wasnt long before we busted out our focusing lenses and proceeded to put on a laser light show that brought exclamations from the crowd and an impressed shoutout from the DJ!
But that was just for openers. Not to be outdone, Wilbyr unloaded his vault of Fireworks, and distributed them among us. Then he set up launchers on the balcony above the party, and we proceeded to wow the crowd with a five minute fireworks extravaganza! We then grabbed our Alliance Balloons and slow-falled back down into the crowd from the balcony in epic Gnome style! The amazed DJ lamented on the air that he wished he had Fraps going to record it, it was that good!
Sunday found us within a few percent of a new level, and we rallied to the challenge! With a last minute flurry of Guild Challenges, we got the job done! Gnomeregan Forever has officially become a Level 13 Alliance guild! And that will be music to our PvP'ers ears because that means we add
Honorable Mention Rank 1
to our growing list of
guild perks
!
And we got a bunch of spiffy new Gnomes this week! Please give a warm G4 welcome to: Tiffyn, Aracela, Torko, Firewires, Kwix, Sphesty, and Hingleton!
Have another great week people, and remember, whatever you do...do it Gnome Style!